---
The 4th of July weekend is approaching!  Make your plans now to enjoy firework displays and Independence Day celebrations throughout Hampton Roads.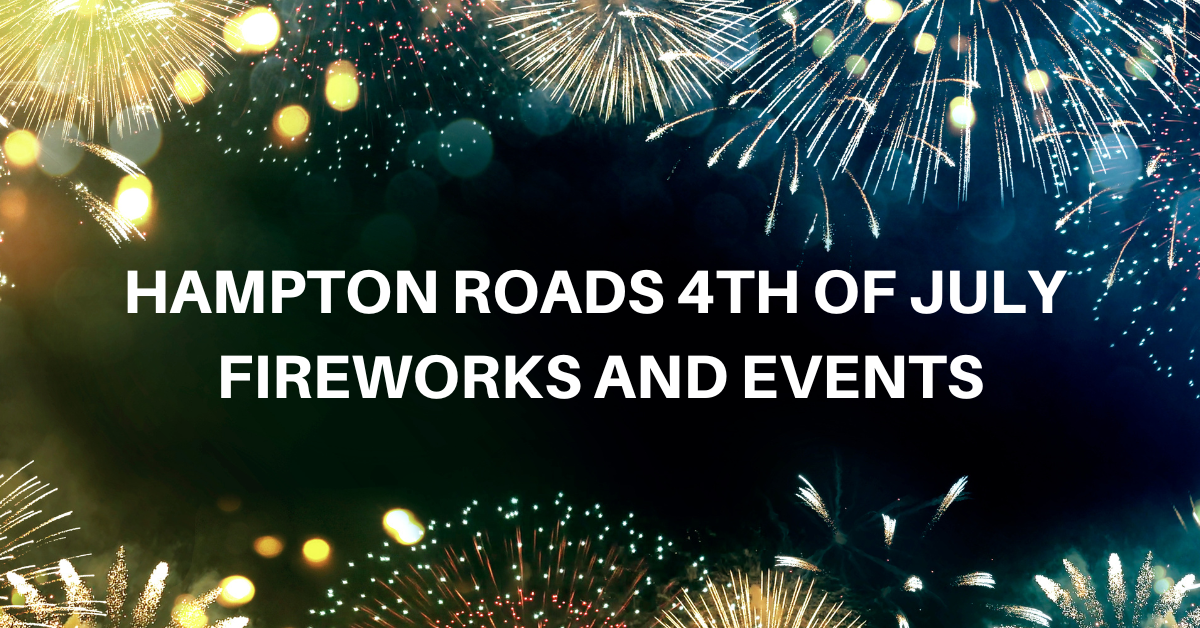 ---
CHESAPEAKE:
Saturday, July 1st: Independence Day Celebration at the Great Bridge Battlefield Museum. The Great Bridge Battlefield & Waterways History Museum celebrates America's Independence this weekend on Saturday, July 1. Activities are included with museum admission
.
Monday, July 3rd: Celebrate Freedom. 900 City Park Drive, Chesapeake, VA 23320, The event is free to the public. $5 on-site Parking Fee. Celebrate America's Birthday with band concerts providing stirring patriotic sounds. Following the concerts, fireworks by Pyrotecnico will illuminate the dark sky after sunset. Bring your own chairs or blanket. (Tents, feather flags, and oversized umbrellas are not permitted!) A variety of food trucks will be available. Enjoy music, activities, and giveaways while they last!
Tuesday, July 4th: Annual South Norfolk Parade & Picnic in the Park. The South Norfolk Civic League and the Chesapeake Parks, Recreation and Tourism Department will present this annual patriotic event in South Norfolk at Lakeside Park. The event is free to the public although some activities may require a small fee. For more details, see the South Norfolk Civic League website.
---
HAMPTON:
NORFOLK:
Friday, June 30th- Ocean View Park. Shore Thing Independence Day Celebration & Fireworks Display. Summer brings the return of the popular Friday after-work Ocean View event series.
Saturday, July 1st- Monday, July 3rd: Celebrate America's Independence with a Post-Game Special Fireworks Extravaganza after the Norfolk Tides game!
Tuesday, July 4th: 39th Annual 4th of July Great American Picnic & Fireworks at Town Point Park, Downtown Norfolk Waterfront, Virginia from 5pm – 10pm. Firework Display at 9:30pm.  FREE & OPEN TO THE PUBLIC!  Learn more here.
---
NEWPORT NEWS:
Tuesday, July 4th: Celebrate Independence Day in style at Picnic in the USA! Join us on July 4th from 11am to 5pm for a day filled with FREE family-friendly fun, live music, delicious food, and exciting activities. Enjoy live music by Celeste Kellogg and acoustic songs by Joe Heilman while indulging in mouthwatering treats from local food trucks & vendors.
Tuesday, July 4th: 4th of July – Stars in the Sky at Victory Landing Park.  Event begins at 7pm. Be sure to grab your free light up give-away (while supplies last) on your way into the festival area, which will be full of patriotic spirit including children's activities (inflatables, face painting and more), live musical performances and strolling entertainers in red, white and blue. Food vendors will be on site selling Independence Day family favorites including hamburgers, hot dogs, ribs, snow cones, ice cream, funnel cakes and so much more.  Live music will also be provided on the main stage from 7:30 to 9:00 p.m.
---
PORTSMOUTH:
Tuesday, July 4th: Shaggin' 4th of July Celebration. A Beach Music party on the 4th of July to show off your shag stepping. The Original Rhondels play beach music from 5:00 p.m. – 8:00 p.m. with a follow up performance by the Tidewater Concert Band playing patriotic music from 8:00 p.m. – 9:30 p.m. Fireworks show at 9:30pm.
---
SMITHFIELD:
Sunday, July 2nd:   Fireworks in Smithfield. 9:30 pm
 – 

10:00 pm.

The fireworks are still scheduled for 9:30 pm. The display will shoot off from Clontz Park in Downtown Smithfield with good viewing from the Smithfield Station Bridge and all along the river.
---
SUFFOLK:
Tuesday, July 4th: Enjoy the Stars and Stripes Spectacular as the skies of Suffolk light up with a fireworks show over the beautiful Nansemond River at Constant's Wharf Park and Marina. The park will open at 5:30pm with entertainment, bounce houses, merchandise vendors, and a variety of food choices. Rocky 7 will take the stage at 6pm with a repertoire of songs in a variety of styles. The fireworks show will begin at 9pm for the entire family to enjoy. There is no on-site parking for this event. Shuttle parking will begin at 5:15pm from the Courthouse (150 N. Main Street).
---
VIRGINIA BEACH:
Tuesday, July 4th: Stars & Stripes Celebration. Virginia Beach's 'star-spangled' salute will feature live music and events that culminate in a fireworks show. Admission is free. 17th STREET PARK 7pm-10:30pm: Strictly Bizzness, 24TH STREET PARK
7:30pm-9:30pm: The Tidewater Winds Concert Band, FIREWORKS AT 9:30pm, 31st STREET PARK, 7pm-10:30pm: Good Shot Judy
Tuesday, July 4th: Virginia Beach Parks and Recreations' 4th of July Celebration at Mount Trashmore. Fireworks begin at approximately 9:30 pm. Admission is free; limited onsite parking is $20 (cash only). Learn more: www.VBgov.com/specialevents
---
WILLIAMSBURG:
Tuesday, July 4th: Lights of Freedom. . Enjoy patriotic festivities, including public readings of the Declaration of Independence, musical performances, and a dazzling fireworks display to cap the evening. Learn more here.
---
YORKTOWN:
Tuesday, July 4th: The Independence Day Celebration in Yorktown. Join us for an Independence Day celebration all day long! Lounge on the beach, jam to live music, visit local shops, and explore several museums. Evening activities include a bell-ringing ceremony, patriotic concert, and an amazing fireworks display over the York River. Bring your flags; wear red, white, and blue; and come together to celebrate America! Fireworks start at 9:15 p.m.