Keyshawn, JWill & Max (6-10 a.m. ET):
KEYSHAWN JOHNSON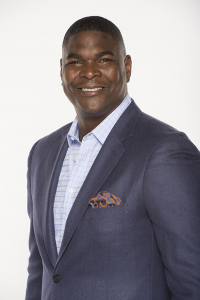 Super Bowl champion and three-time Pro Bowl receiver Keyshawn Johnson is an NFL analyst on ESPN's marquee, weekday football studio show NFL Live. Johnson also co-hosts ESPN Radio's weekday morning show, Keyshawn, JWill and Max with Jay Williams and Max Kellerman. The show – which airs from 6-10 a.m. Johnson also regularly appears on Get Up, First Take and other TV and radio studio programming across the network.
For four years (2016-20), Johnson was the host for the daily morning show on ESPNLA 710 AM, ESPN's owned station in Los Angeles, most recently with LZ Granderson and Travis Rodgers. Prior to that, Johnson was a member of ESPN's Sunday NFL Countdown and Monday Night Countdown shows from 2007-15. During that time he also contributed to Super Bowl week coverage and other events.
Johnson made his ESPN debut as a guest analyst (while still a member of the Carolina Panthers) on the main set during the 2007 NFL Draft. He has served as a guest host on ESPN and ESPN Radio programs. His on-air contributions have extended well beyond football through wide-ranging features and as part of major event coverage on both ESPN and ABC, including the SportsCenter Who's Now series in 2007 during which he, Kirk Herbstreit and Michael Wilbon helped determine the "Ultimate Sports Star."
Johnson was the top overall pick by the New York Jets in the 1996 NFL Draft. During his 11-year career, Johnson played for four teams – Jets (1996-99), Tampa Bay Buccaneers (2000-03), Dallas Cowboys (2004-05) and Panthers (2006). The three-time Pro Bowler – who was also named Pro Bowl MVP in 1999 – helped lead the Buccaneers to a win in Super Bowl XXXVII.
Johnson previously hosted a weekly radio show, "Taking it to the House," on Sirius Satellite Radio, and wrote the book "Just Give Me the Damn Ball!: The Fast Times and Hard Knocks of an NFL Rookie" with ESPN's Shelley Smith. In 2015, Johnson co-executive produced the ESPN "30 for 30" documentary Trojan War about the rise and fall of the USC football program with Smith and her daughter, Dylann Tharp. As an NFL rookie, Johnson notably appeared in one of ESPN's most iconic This Is SportsCenter commercials alongside Kobe Bryant, Stuart Scott and Kenny Mayne.
JAY WILLIAMS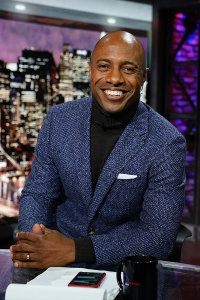 NBA Analyst & ESPN Radio Host
Former standout point guard Jay Williams, roundly considered one of the most prolific college basketball players in history, is an NBA analyst on ESPN's longstanding NBA pregame show NBA Countdown. Since August 2020, Williams has also co-hosted ESPN Radio's weekday morning show, Keyshawn, JWill and Zubin, with Keyshawn Johnson and Zubin Mehenti. The show – which airs from 6-10 a.m. ET – is also simulcast on ESPN2 (6-8 a.m.) and ESPNEWS (6-10 a.m.). Williams regularly contributes across the network's studio programming including Get Up, First Take and The Jump.
Williams became an ESPN full-time game and studio analyst in 2008, after working for the network as a commentator in 2003. Williams joined at the start of the 2014-15 season as an analyst on ESPN's College GameDay – the popular Saturday morning and evening college basketball program that originates from the Saturday Primetime game-of-the-week telecasts. He was a constant on ESPN and ESPN2's weeknight studio coverage, called select college games throughout the year and had previously called the ESPNU ACC Sunday Night Basketball series.
Before joining ESPN, Williams was an analyst in 2007 for CBS College Sports Network, primarily working the NCAA Men's Basketball Tournament. He previously was a contributor to Fox Sports Radio 99.9 The Fan in North Carolina.
As a starter for three years at Duke, Williams won the Naismith College Player of the Year award, the John R. Wooden Award and the Oscar Robertson Trophy.
Williams averaged 19.3 points per game, 6.0 assists and 3.7 rebounds for the Blue Devils, while shooting .453 from the floor and .393 from 3-point range. He also led Duke to a 95-13 (.880) record and the 2001 NCAA National Championship. He averaged double figures as a freshman, which helped earn him the ACC Rookie of the Year award in 2000 and recognition as a first-team All-America player.
In his sophomore season with the Blue Devils, Williams shattered several school and NCAA records. With 841 points and a 25.7 ppg average, he topped Dick Groat's 49-year-old record for most points in a season. Williams also set an NCAA Tournament record for 3-pointers attempted with 66. His 132 3-point field goals amounted to the sixth-highest total in NCAA history; his conference-leading 21.6 ppg designated him as the first Duke player to lead the ACC in scoring since Danny Ferry in 1989. Williams' 6.1 assists ranked second in the league, while he also ranked second in 3-point field goal percentage (.427) and first in 3-pointers made (3.4 per game).
At the final game in his junior year, Williams' No. 22 jersey was retired at Cameron Indoor Stadium. His jersey also has been retired at his elementary school and high school.
Williams was drafted second by Chicago in the 2002 NBA Draft, just behind No. 1 pick Yao Ming, and started 54 of 75 games for the Bulls in the 2002-03 season. During his first season in the NBA, his most memorable performance was a game against his hometown team, the New Jersey Nets, during which Williams scored a triple-double. He also played for the U.S. National team in the 2002 FIBA World Championship.
An accomplished entrepreneur and spokesperson, Williams is the CEO and National Director of Special Events for Rising Stars Youth Foundation using basketball as the vehicle to promote education and provide academic and financial assistance to students within the program. He is also the President and Chairman of his own company, Jay LLC.
He is a member of the NBA Retired Players Association, a voting member of the John Wooden Awards Committee and sits on the board of USA Basketball, and has been the spokesperson for Athletic Advantage, a sports physical therapy and performance development center in Durham, N.C.
In 2002, Williams graduated from Duke with a bachelor's degree in sociology and business, becoming the first athlete at the university to earn a degree in just three years.
Max Kellerman is the co-host of ESPN Radio's signature, national morning show Keyshawn, JWill & Max, alongside Keyshawn Johnson and Jay Williams (since Sept. 2021). Kellerman also hosts ESPN's live weekday afternoon show, This Just In (since Sept. 2021) as well as his weekly boxing show, Max on Boxing on ESPN2. Prior to that he was a commentator on ESPN's First Take with Stephen A. Smith and host Molly Qerim Rose from 2016-21. Kellerman made his national ESPN Radio debut in August 2020 with The Max Kellerman Show. 
Previously, Kellerman was a host on ESPN's Los Angeles-based studio show SportsNation alongside Marcellus Wiley and Michelle Beadle. Kellerman also hosted the afternoon drive program, "Max & Marcellus," on ESPN Radio Los Angeles with Wiley. Kellerman has appeared across ESPN's various platforms including SportsCenter, Pardon the Interruption, ESPN Radio New York and was the original host of Around the Horn.
Long known to sports fans for his insightful boxing commentary, Kellerman was the studio analyst for ESPN's boxing series Friday Night Fights and provided ringside analysis on Tuesday Night Fights.
In 2006, he took over the ringside commentator role on HBO's Boxing After Dark series and the following year joined the World Championship Boxing broadcast team. He also appeared on The Fight Game with Jim Lampley and hosted Face Off with Max Kellerman.
Kellerman graduated from Columbia University with a degree in history