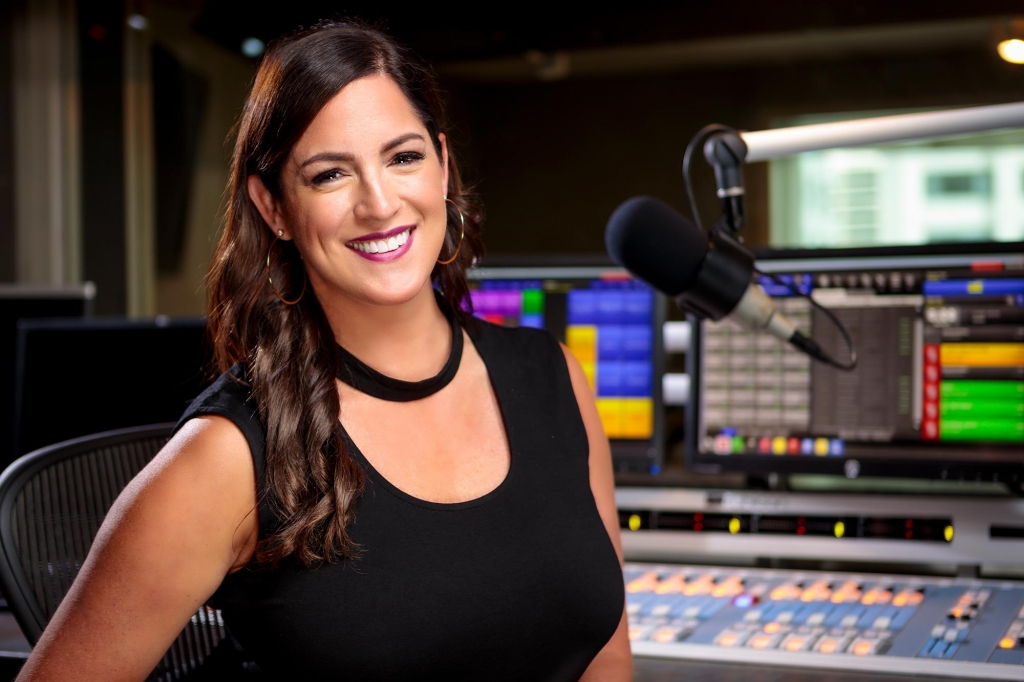 Sarah Spain has been the co-host of Spain and Fitz, with Jason Fitz, since its return to the ESPN Radio lineup in August 2020, airing from 7 – 9 p.m. ET. The reunited duo picked up where they left off in June 2019, entertaining listeners with insightful conversation on the day's trending topics and under-the-radar stories. In addition, Spain – an Emmy and Peabody Award winner – is a columnist for espnW, a SportsCenter reporter and host of the That's What She Said podcast. Since joining ESPN in 2010 Spain has contributed to other programs and platforms at the network including, The Dan Le Batard Show with Stugotz, Around the Horn, Highly Questionable and more.
She has been a primary voice on ESPN Radio, having co-hosted Spain and Company (2019-20), Spain and Fitz (2018-19), Izzy and Spain (2016-18), as well as ESPN Radio's first all-women program featuring three hosts espnW Presents: The Trifecta (2016 – 2017) and Spain & Prim (2015) – one of the first national sports radio shows both produced and hosted by women. Spain began her career at ESPN as an update anchor for ESPN 1000 in 2010.
Prior to joining ESPN, Spain worked at several outlets, including Fox Sports Net, WGN AM-720, WGN-TV, ChicagoNow.com and did freelance work for the Chicago Tribune Red Eye and The Big Ten Network.
Spain received a bachelor's degree in English in 2002 from Cornell University, where she competed as a heptathlete and served as the co-captain of the track and field team.
Jason Fitz has hosted ESPN Radio's Spain and Fitz, with Sarah Spain, since August 2020. The show – which airs from 7-9 p.m. ET – picks up where it left off in June 2019, entertaining listeners with insightful conversation on the day's trending topics and under-the-radar stories. Fitz is also a host for ESPN's SportsCenter on Snapchat, a digital sports show that debuted November 13, 2017 and features a mix of the latest sports news, highlights and commentary. In addition, Fitz is a regular fixture on ESPN's social media shows surrounding marquee events and key announcement shows such as the Super Bowl, NFL Draft, College Football Playoff Selection Show and College Football Playoff Rankings Reactions alongside Mike Golic Jr.
Fitz has also hosted ESPN Radio's highly interactive afternoon show, Fist Take, Your Take (Jan. 2020-Aug. 2020). Prior to that, he hosted First and Last every weekday morning on ESPN Radio from June 2019-January 2020. Fitz was also a regular contributor to ESPN Radio's morning drive show, Golic and Wingo.
He also hosted the national, weekend ESPN Radio show Jordan Rodgers & Jason Fitz with SEC Network analyst Jordan Rodgers beginning in February 2017, as well as the local Braden & Fitz program on ESPN Nashville, which ran from August 2016 until December 2017. Fitz began his ESPN career in August 2016 with College Football Daily on ESPNU.
Fitz was previously a member of the chart-topping country music group The Band Perry, serving as the band's musical director and fiddle player. A GRAMMY-nominated artist and acclaimed multi-instrument musician, Fitz studied classical violin at The Julliard School.